Shin Yuna is one the heirs to SW corporation and the granddaughter of the owner of SW Group, which is a multinational company known throughout the world.
She has a personal bodyguard named Sukjoo at all times.
Appearance
[
]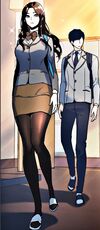 Yuna is a beautiful pale-skinned girl in her teens with wavy chest-length dark-brown hair that has bangs hanging on either side, light blue eyes and full pink lips.
Trivia
[
]
Yuna does not like her cousins due to their rivalry.
Shin Jiyeh incorrectly presumed Yuna was dating Yu Ijin, so she tried to break them up by claiming Yuna was immature and irresponsible.